I am Mr. Jacobs and welcome to my class website! I am a 4th-grade teacher at Summit Academy Independence Campus. I have been part of the Summit Academy family for over six years and have loved every moment of it. This is a great school and I hope you guys love it as much as I do. I taught 6th grade for six years and have have taught 4th grade for the last couple of years! I am very passionate about engaging all my students, challenging them, and helping them to reach their full potential. My ultimate goal for your students is to help them become lifelong learners.


Below is a short video that Mrs. Webb and I made to welcome everyone back to school!
The best way to contact me is by email at
The typing program I am using with my students can be found at
Username:
Password: "Lunch Number"
To visit our Character Ed site created by Mr. S, click on the link below.
If you are interested in placing a book order, simply click in the picture below.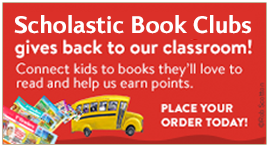 To access
class-specific
information please click on the class on the right-hand side of the page.